We would like to offer best services, in order to exceed and meet our Customer needs with high level of satisfaction. We want to provide the highest quality and competence in process excellence growing together.
We exist thanks to our Customers and we are very grateful to them for what we are today. Our intent is to strive your organization for excellence.
Company development cycle (CPOR)
According to our modus operandi, the Voice of the Customer ("C") triggers a virtuous cycle to "pull" processes ("P"), through which the organization ("O") and the development of talents and resources leads to the achievement of concrete financial results ("R").
Customers

Value Generation
Competitiveness
Product and service quality improvement
Processes

Process engineering and standardization
Process simplification and prioritization
Process governance and sustainability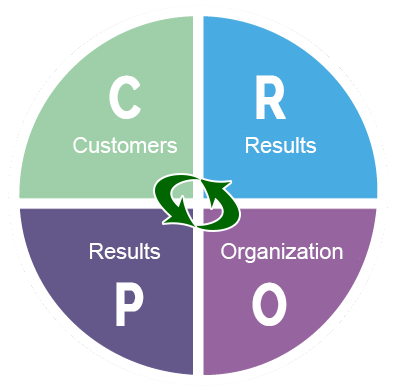 Economic Results

Costs reduction
Productivity
Financial benefits increasing
Organization

Efficiency
Involvement and empowerment
Resources and talents optimization
Best practices adoption
Process evolution
The activities we propose represent the path of the processes towards excellence. The cycle of improvement is developed through four phases: streamlining, stabilization, automation and innovation. Our organization is able to lead and support our customers through the different stages of this process, through intercompany sessions, workshops, projects, training, OJT, project management and other specific events.

Improvement phases
English